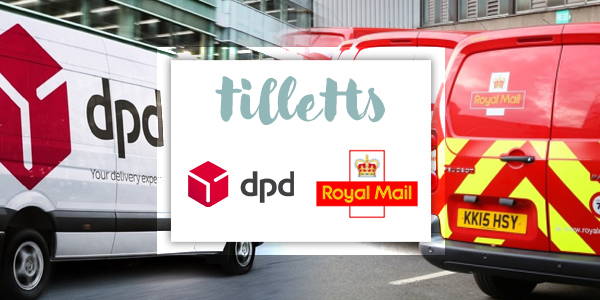 Delivery Options (UK Mainland)
Standard Delivery (Royal Mail) (3-5 Working Days) - £1.00
 
Next Day Delivery (DPD) (Excluding Sundays & Bank Holidays) - £2.50
 
Click&Collect - FREE (for more information on Click&Collect (click here)
 
(These shipping rates apply to UK Mainland addresses only. Click&Collect can only be serviced to addresses local to our store. Any adjustment due to a non UK Mainland or International address will be applied/calculated at the checkout.)
Delivery Options (Non Mainland)
Highlands & Islands - Standard Delivery (Royal Mail) (3-5 Working Days) - £1.00
 
European - Standard European £9.95
 
International - Standard International £14.95
Turnaround
We aim to dispatch all "Next Day Delivery" orders placed before 2PM on the same day as the order was placed, for delivery the next working day. Orders placed after 2PM will be dispatched on the next working day.
Standard delivery orders will be delivered within 3-5 working days from point of dispatch.
Whilst we aim to dispatch all Click & Collect orders within 24 hours to store, please await an email from our system to notify you that your order is ready for collection. If you have not received a notification within 3 working days please call the store on 01472 566995 to check if your order has arrived for collection.
Orders are dispatched Monday - Sunday 8am - 5pm.
Orders may be delivered between Monday-Saturday.

Please note that if ordering on or near a Bank Holiday, this may affect the dispatch and delivery of your parcel.
Carriers
Our UK Mainland orders are shipped via Royal Mail or DPD. We do use a number of partner courier networks to ship to Non Mainland and International addresses.
Order Tracking
If a tracking number is provided by the shipping carrier, we will update your order with the tracking information.
For Next Day Delivery orders, DPD may contact you directly by email/SMS to update you on your delivery, including providing a 1 hour delivery window.
If you require updates on your delivery, you can contact the courier on the below numbers.
Royal Mail - 0345 774 0740
DPD - 0121 275 0500

Shipping Rates
Before the final checkout page you will be shown the delivery options available and the calculated costs. This stage will be before any payment is taken.
Delivery T&C's
Next Day Delivery
For next day delivery any parcels ordered before '2:00PM' will be dispatched via DPD. DPD will then notify you once your parcel has been collected with your in-transit delivery options via text/email and then again on the morning of delivery with a 1hr delivery window when your delivery will be made. You can update your delivery preferences at any point before your delivery is made.

Due to the complexities of logistics, deliveries can occasionally encounter complications along the way such as:
Vehicle Breakdowns
Missing/Incomplete Address Details
Unable to locate the address


However, the good news is that DPD will notify you on those very rare occasions that your parcel encounters a delay and also update you with a new delivery time or date. As the service is a next day delivery aim we're unable to offer refunds as the costings for collection & processing of parcels are built into the overall delivery charge.
Late Dispatch
Although we aim to dispatch all Next Day orders placed before 2PM the same working day, there are some circumstances that may cause a delay in the dispatch of your order. These are exceptional situations and those in which cannot be avoided, therefore, we are unable to offer a refund for delivery costs.
Late/Missed Deliveries
Unfortunately, once we have passed your parcel to the courier, it is the responsibility of the courier to fulfil the requested delivery service. In the case of your delivery being late or missed, please check your tracking information in your dispatch notification email and contact the courier directly.
Royal Mail - 0345 774 0740
DPD - 0121 275 0500
Please note we are unable to refund delivery costs in an instance where a parcel is delayed or delivery is missed for the following reasons:
The courier has attempted delivery, but has unfortunately missed you.
The courier has for unforeseen circumstances been unable to reach you.

Vehicle Breakdowns
Unable to locate your address
Incorrect address provided
Orders Delivered In Safe Place Or With A Neighbour
If you request for your order to be delivered to your safe place or with a neighbour, this is at your own risk and we are not liable.